I-motion devices: experience the sports revolution!
i-Motion: the typical equipment
i-Motion electrostimulation system for sports
Super efficient, hygienic and practical
The i-Motion electro-stimulation device consists of :
a central unit (console or screen),
a jacket housing the electrodes (Bio-Jacket)
and a wireless communication module (MCI).
The new software, with its intelligent settings, allows for simple and intuitive operation of the device.
Users have 20 preset programs and 6 configurable expert modes!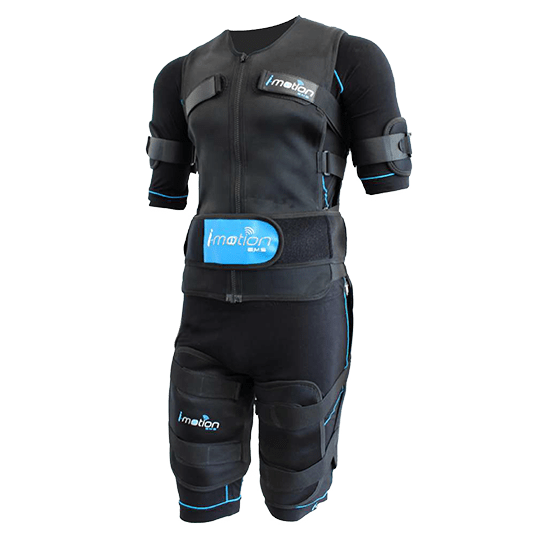 The i-motion Bio-Jacket suit covers the entire body and offers complete freedom of movement during the sessions. Thanks to their rubber and carbon composition,the electrodes used in the training suit are light, small and discreet. Che various sensors allow us to stimulate more than half of our 650 muscles and can be placed on any part of the body. The i-Motion muscular electro-stimulator is the technology that helps you develop a harmoniously proportioned physique in record time!
Intelligent software and scheduled sessions
The i-motion software was designed to accompany coaches during their training. This intelligent software includes:
20 established programs,
including 10 automatic programs ,
and 6 free configurations.
Its virtual trainer function also allows you toautomate the sessions and allows everyone to evolve at their own pace.
The system is available on tablet and smartphone via Android.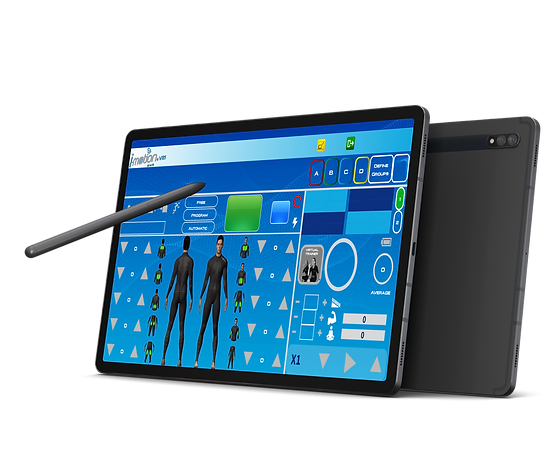 Precise and sharp adjustments
The i-motion equipment distributed by EMSPRO has 20 programs, with a single frequency for each program (strength 1, fitness, cardio, body, cellulite, recovery, warm-up, etc.).
During a session, you can change the frequency and program, which allows you to work short, medium and long fibers, and not allow the muscles to become accustomed to the stimuli.
The technological power of e-motion equipment allows you to personalize each EMS session according to :
your client's needs,
and each area of the body to be worked on.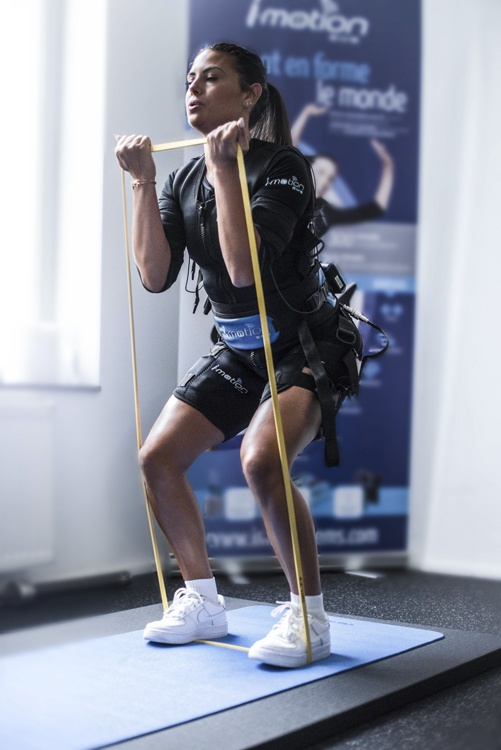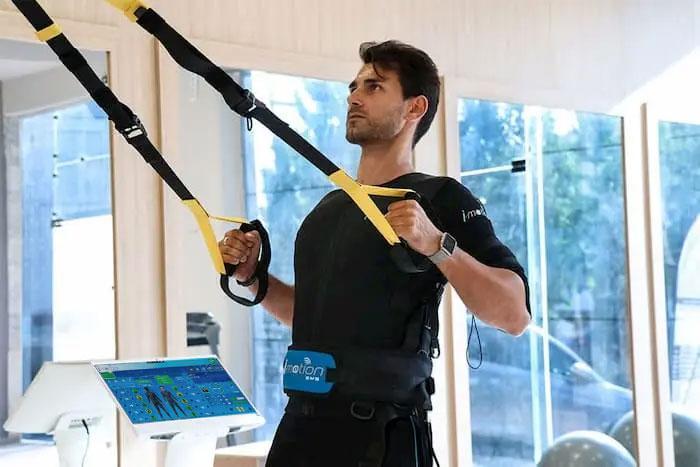 The EMS software that powers EMSPRO's equipment is developed in partnership with trainers, physiotherapists, health professionals and athletes. This collaboration has made it possible to design a program that addresses both muscle development and metabolic functions.
It is, to date, the only one that can combine sessions that combine muscle building and fat burning.
Its intelligent function makes it possible to exploit the recovery phases by activating small impulses that promote fat burning.
This is a first, and it will change the way you exercise forever!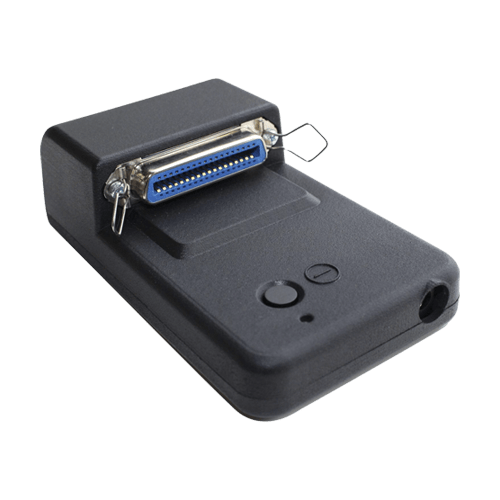 Connection module
Wireless
Internationally approved, the MCI module's Class 1 Bluetooth wireless technology has a security system that guarantees a connection up to 100 meters! This gives the user complete freedom of movement.
The MCI module is part of the purchase of a Pro Sport Pack.
Each training session with the i-motion machines helps to strengthen all of these points, working on some 300 muscles. But depending on the predefined programs, it is possible to put more emphasis on one or the other point.
master the possibilities of the devices
Professional curricula EMSPRO training program
The training program developed by i-motion and EMSPRO allows :
to makethe most of the different types and programs of training;
to quickly make the investments profitable.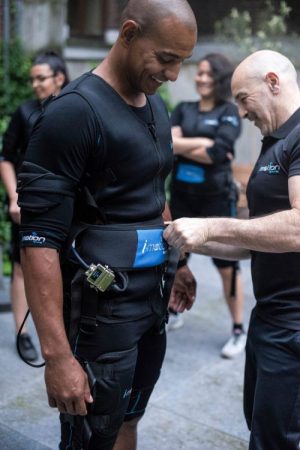 Unlimited multi-user package possibilities
Need a customized paCKS PRO package?
Do you manage one or more sports centers? Would you like to receive an offer for a package tailored to your needs and ambitions? Please contact us.
It is not because you put on a suit equipped with electrodes to send stimulation to the muscles that you end up electrocuted! A programmer makes it possible to regulate their intensity to solicit the muscle without any risk for the body and the heart. In medicine, EMS is used for therapeutic purposes to prevent muscle atrophy, among other things. It is also recommended in aesthetic medicine to stimulate the muscles of the face and prevent muscle relaxation which is the cause of aging.
1 De Bisshop G, Dumoulin J. Antalgic and excito-motor transcutaneous electrical neurostimulation, Masson, Paris, 1991
Again, EMS would not be recommended for therapeutic follow-up after an accident or injury if it caused pain. The objective is to stimulate the muscle. At first, you feel a few tingles, then the muscle contracts. If pain is felt, the intensity should be adjusted downward. You may feel a few aches and pains in the hours following an EMS session, but like the aches and pains you feel after any physical effort when you have lost the habit of exercising.
labels and certifications
Of course, our after-sales service is available for the sale or replacement of additional products. If you have any questions, please contact us so that we can help you as soon as possible and with the greatest pleasure.
Of course you do! Many physiotherapists, chiropractors, osteopaths, sophrologists, etc. are already using this equipment in the context of post-trauma care and rehabilitation. However, we encourage you to ensure that electrical stimulation is tailored to the individual condition of each patient.
Start your own EMS studio and become a professional coach yourself. Contact our experts to test or order a Sport Pack Pro!